For this Member Spotlight, we sat down with the new Vicar of All Saints Church, Rev Joe Moffatt. He shares his new found love for Kingston, his appreciation of the rich heritage of the Church and town in general and some of the exciting projects he is working on at the church.
---
It's great to be part of the Kingston scene, having arrived as the new Vicar of All Saints Church in September. I love being 'in the thick of it' and it's hard to think of a church with a more central location (in between Market Square and John Lewis) and central role. So I couldn't be happier. I've certainly been thrown into things. The day after I had my Inductiion Service the Queen died and I was suddenly required to organise a big Civic Service of Thanksgiving as well as participate in the Proclamation of the new King from the steps off the Guildhall. That was swiftly followed by the Crown Court Service at the end of September and the Remembrance Sunday Service in November, both of which packed the church out. Now we're surrounded by the buzz of the Christmas markets and are busy hosting a joyful run of school carol services.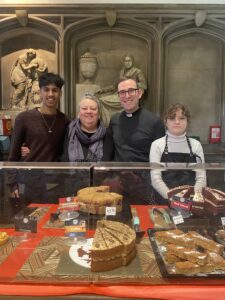 To introduce myself, I've been a vicar since 1999 and have worked in parishes as diverse as Wolverhampton and Chelsea. But for the past 13 years I've been just over the river in Teddington. So Kingston is familiar but I hadn't fully appreciated all that goes on and the many hidden gems that I'm now discovering, be that the fantastic bars and restaurants or the inspiring community groups. I've got two student aged children and a wife who is a keen rower so they are all very pleased that we haven't moved far. As for myself, I love running along the river and doing the parkrun in Bushy Park. And I'm discovering the joys of Banquet Record gigs, especially the ones in St John's Church where I can volunteer on the bar.
What I've appreciated about All Saints so far is threefold. Firstly, the incredible heritage that is associated with the church, stretching back to the coronation of Saxon kings, and the excellent interpretation of this history that is available for all our visitors. Secondly, the wonderful choir who lift our worship with a fantastic repertoire of music and all the energy that comes from a mixed group of talented adults and young people. Thirdly, the super-friendly café that serves our visitors from 10am-4pm every day and the amazing volunteer team of vergers and listeners who are on hand to offer a warm welcome and a compassionate ear. It really is a caring community who offer a cup of companionship as well as coffee.
Heritage, Music and a Caring Community: I'd like to give a plug for each of these features of All Saints. On the heritage front we are currently running an appeal to raise money for the Saxon King Embroidery Project. This aims to create seven outstanding embroideries for each of the Saxon kings traditionally said to be crowned in Kingston. Donations made to our Book of Names appeal will be marked through a name embroidered into a book which is a fantastic unique way to honour someone special. You can find out more here.
On the music front, don't miss one of our Christmas Services or come to The Bishop (the pub not the person) for a merry carol sing-a-long that I will be leading On Wednesday 21st December 8-10pm. All Saints Church, Kingston (allsaintskingston.co.uk)
On the caring community, never forget that we are always here for you and can offer lunches, cakes and coffees as well as that cup of companionship.
From all of us here at All Saints we wish you a very merry and blessed Christmas.
---
We love hearing from our members how things are going. If you would like to write a Member Spotlight, drop an email to emma.norman@kingstonfirst.co.uk.