Kingston First a proud to present an exciting new art trail for Kingston town centre, creating a new way to experience the town centre and building on its strong arts and cultural heritage. Kingston First has collaborated with internationally renowned artists Gillie and Marc to bring the Chimps Are Family exhibition to Kingston
In 2022, the team behind Gillie and Marc approached Kingston First with an offer for Kingston to host their successful public art exhibition, Chimps Are Family. The original exhibition was based at London Bridge, with 18 large bronze sculptures depicting chimpanzee behaviours and highlighting the plight of the animals and importance of wildlife conservation. 
Ten of the chimpanzees have been installed across Kingston town centre and will be in place for at least six months. Free for everyone to enjoy, they will also act as a chance to learn more about Chimpanzees and wildlife conservation.
One-half of the artist duo, Gillie said: "I was born in Kingston Hospital and lived my first years in Kingston upon Thames. My earliest fond childhood memories were spent walking along the river with my mother and father. It is so special to be able to bring 'Chimps Are Family' to the place and community where my life began."
Kirsten Henly, Chief Executive of Kingston First, said: "We are delighted to be partnering with world-renowned artists Gillie and Marc to bring these wonderful sculptures to Kingston upon Thames. We know that people are always looking for new, exciting experiences; free and accessible public artwork is an important strategy to create vibrant and successful places and encourages people to visit their local town and businesses. Ten characterful chimps will be located on a trail to discover around Kingston town centre, and we look forward to welcoming the many visitors and local residents who will be coming to enjoy them."
These sculptures are designed to be interactive. The public is encouraged to get as close as they want, touching their faces, examining their hands, and giving them a hug. This unique form of public conservation is here to inspire love and connection.
The ten chimps will be dotted around Kingston's town centre and trail maps are be available to pick up in local businesses and lovethelast.com. You can also click here to download a pdf.
Each of the chimps will be displayed with a QR code where the public can learn all about the individual chimpanzee and find important information surrounding conservation. They will also have the option to donate to save chimpanzees, with all funds going to WWF.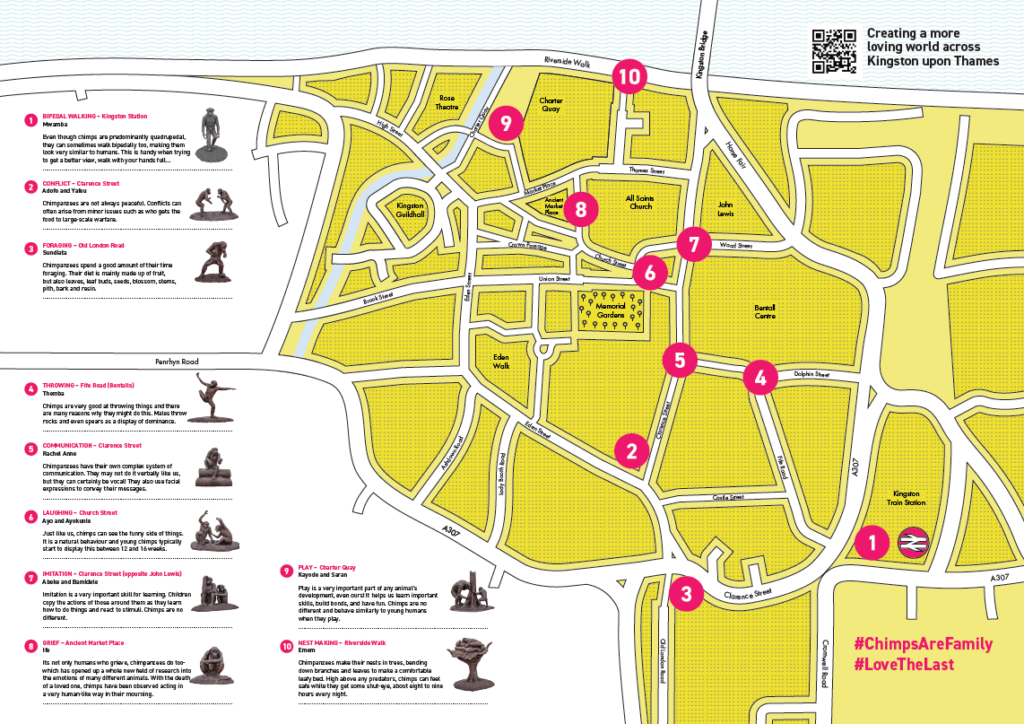 Showcasing 10 different chimpanzee behaviours such as laughing, grief, and imitation, the public is given a unique glimpse into the life of a chimp and a greater understanding of our cousins.
"We really hope that these sculptures will help people to see the very real similarities between us and chimps. They laugh at funny things, get cross with one another, and have wonderful bonds of friendship. We hope that once people see how similar we really are they will be moved to protect them," explains Marc.
'Chimps Are Family' is giving the people of Kingston upon Thames a once-in-a-lifetime chance to get up close and personal with our cousins, but also the opportunity to save them before it's too late.
For more information on the artists and the exhibition, visit lovethelast.com.