With the constant stream of negative news that we've been subjected over the last year, it's easy to forget 'good news' stories, including those of the businesses who have taken the bold and brave step of opening up in the midst of a pandemic. Our lives have arguably been pretty bleak recently, and the town centre is missing it's usual vibrant atmosphere that only streets full of people can bring. But there are many signs of hope and exciting developments in our town centre, with a number of new businesses springing up, ready and waiting to welcome customers again once restrictions are eased. We spoke with a couple of them to find out how they've dealt with the momentous task of starting up a new business in the middle of a worldwide pandemic.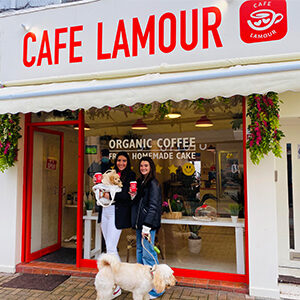 Cafe Lamour opened its doors in September 2020, serving up organic coffee and fresh homemade cakes. Owner Muhsen Jalal has lived in Kingston for many years, and always wanted to open up a cafe offering something special to locals in the town he loves. In normal circumstances, most of Cafe Lamour's trade would come from passing shoppers, thanks to their prime location on Fife Road opposite the Bentall Centre exit. Muhsen says they have received great feedback from customers so far, and he is hopeful that good times will return – "I believe through challenges and difficulties, opportunities come up and no situation remains the same forever…I know it's a very difficult time to open a cafe but if we manage to survive through it then it will be a successful business."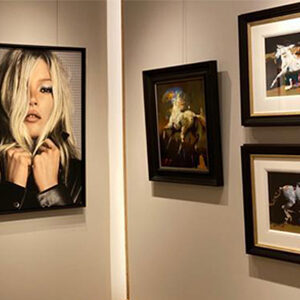 Another recent opening is Clarendon Art, who have a new boutique gallery on Church Street. Angela John, Gallery Manager, explains how as soon as they opened on 18 December, the very same day they had to close their doors as Kingston was plunged into Tier 4. Despite this, the business has been thriving – "we have adapted well, offering contactless delivery and organising window viewings for client requests, they can pass by the Gallery and we hang the work in the window for the client to view from the street. People are spending more time at home and they want to make it inspiring and comfortable. Art is always the final flourish but the most important one. We look forward to swinging open the doors in the not too distant future and hosting an event for a new artist show very soon!"
With the promise of a fast vaccine rollout and subsequent easing of restrictions on the horizon, we are gearing up to welcome people back to the town centre. With more people shopping locally as a result of the pandemic and a number of new openings across town, a potential reopening in Spring will bring much-needed energy and life back to Kingston town centre.