This week we catch up with new Cinema on the block Curzon in the Bentall Centre. We hear all about the venue including the fascinating origins on the names of their screens, as well as everything from interiors to the food.
---
Curzon is a much loved and iconic UK film and cinema brand with a history stretching back to 1934. The BAFTA-winning company boasts a nationwide network of 17 cinemas, the acclaimed film-distribution label Curzon Film, a virtual venue Curzon Home Cinema, and a film development and production arm CCM.
Curzon Kingston, located in the bustling Bentall Centre, showcases a range of films that cater to every taste, including independent movies, big-budget blockbusters and world cinema. Whether you're a committed film buff or just looking for a new cinematic experience, you're sure to find something that piques your interest.
Curzon Kingston is a lively venue that houses four screens, each named after a local 20th-century cinema in a nod to the town's cultural past. There's Palace, which pays tribute to Kingston's first cinema from 1909; Century, which opened in the 1920s and showed Charlie Chaplin's Modern Times (1936) as its final film; the church-hall conversion, Electric; and Coliseum, a homage to Kingston's 1913 cinema. All the screens feature the latest in laser projection and Coliseum is Curzon Kingston's designated Dolby Atmos screen, ensuring a truly immersive cinematic experience. The screens are also available for private hires, making the cinema the perfect venue for a special occasion or corporate event.
If you're a cinephile, Curzon membership is a must. It includes free tickets for you and discount tickets for a friend, as well as priority booking, access to members-only previews, and discounts on food and drink. And, bonus, the Cult membership will offer 7 free tickets a week (that's 2 more than before) from mid-April 2023, meaning you can watch a film each day of the year. Another tempting deal is Curzon Wednesday, when everyone can get cheap cinema tickets once a week.
Inside, Curzon Kingston has calming, deep-blue and red interiors dotted with gold accents and sumptuous furnishings. The venue also displays several giant images by the Kingston-born photographer Eadweard Muybridge (1830-1904), the father of motion picture whose work was recently championed in Jordan Peele's film, Nope.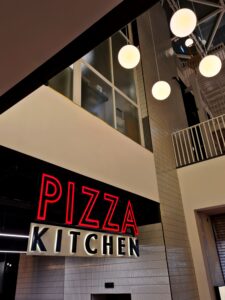 When it comes to refreshments, the venue has you covered. On the entrance floor is Pizza Kitchen, serving up a tempting menu of sourdough pizzas with toppings like goat's cheese and caramelised onion, prosciutto, rocket and parmesan, and mushroom and truffle oil, which can also be delivered to your cinema seat for a truly luxurious experience. What's more, you can enjoy Pizza Kitchen at home by ordering on Deliveroo.
Curzon Kingston is also home to The Rooftop, a sophisticated rooftop bar, set to open its doors this summer, providing a scenic view of the historic town and the perfect spot to enjoy a drink from our inviting cocktail menu.
Curzon Kingston offers a unique and luxurious cinema experience. With a range of diverse films showing in state-of-the-art screening rooms, Pizza Kitchen serving delicious meals, in-screen service, Curzon membership, Curzon Wednesdays and The Rooftop opening soon, there's something for everyone. Visit Curzon Kingston and experience cinema in a whole new way.
Find out more here.
---
We love hearing from our members how things are going. If you would like to write a Member Spotlight, drop an email to emma.norman@kingstonfirst.co.uk.