This week we catch up with Hotel Chocolat in Church Street. We hear about the owners connection to Kingston, and their mantra of 'More Cocoa, Less Sugar'.
---
Our fabulous store has been at the heart of Kingston since 2010, serving our residents the best chocolate and ice cream ever since.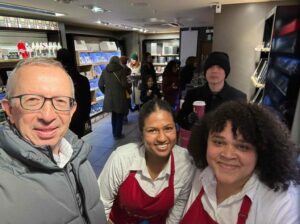 Hotel Chocolat is truly a wonderful company to work for, our team at Kingston is like family and we treat each customer like our extended family.
Our owner Peter Harris attended Kingston grammar school, so has always had a connection with our beautiful town.
When the very first Hotel Chocolat shop opened its doors to guests in North London in 2004, it was the start of a revolution in British chocolate. Two entrepreneurs, Angus Thirlwell and Peter Harris, were on a mission to make chocolate exciting again.
Today, we have 126 stores, as well as cafés, restaurants, outlets, and factory stores. We have over 40 stores in Japan, and a luxury eco-hotel on our working cacao farm in the Caribbean. We are on a continual journey of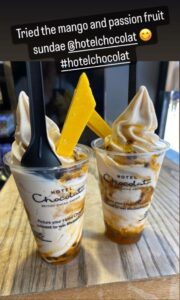 development and growth, yet everything we do is still guided by the three basic values that we started with – and it always will be… Originality, Authenticity, and Ethics.
When making our chocolates, our mantra has always been 'More Cocoa, Less Sugar'. Cocoa will always be our number-one ingredient, even in milk and white chocolate. Most of the world's 'chocolate' is laden with sugar – flip over the next bar you see and check.
Our house-grade milk chocolates, meanwhile, are 40% and 50% cocoa, and even our white chocolate is 36% cocoa, well above the average. This balance of cocoa to sugar is crucial: high levels of sugar dull the flavours of the cocoa itself, denying you all those nuanced notes such as citrus, red and yellow fruits, coffee and brownie and masking the quality of the cocoa so that poorer types can be used. We're also committed to using only real, natural ingredients – nothing artificial, ever. Nature supplies all we need.
And it's not just in our ingredients and the growing of our cocoa that we're authentic – we also know where our ideas come from. Every month our chocolatiers are hard at work crafting brand new recipes in our Cambridgeshire innovation centre.
Our team hope to keep providing the people of Kingston with chocolate for many years to come
---
We love hearing from our members how things are going. If you would like to write a Member Spotlight, drop an email to emma.norman@kingstonfirst.co.uk.