This week we caught up with the team behind relative newbie to the Kingston Riverside, Eco Pizza. We talk origins, bold decisions and hear all about how Eco want to be a part of a vibrant, buzzing Kingston community. Dive into the delicious world of Eco Pizza.
---
Opening a second restaurant for Eco after almost 30 years of business in Clapham was exciting yet absolutely terrifying. We were excited to build and meet a whole new group of customers. We were excited to get the Eco name out there in new territories. But we didn't know how the Kingston crowd would respond – and that was the terrifying part.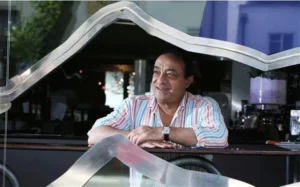 My father Sami's restaurant, Eco, is a household name on Clapham's high street, and has been for almost thirty years. Prior to the creation of Eco, Sami and my mother had taken over Pizzeria Franco, an iconic Italian eatery in Brixton Market, playing a central role in the continued success of the restaurant after previous owner Franco's departure. From this came both the inspiration and knowledge, as well as the right contacts, to design their own restaurant in 1993. And Clapham's reaction to Eco was incredible. 
Today, there is so much comfort in our Clapham joint. We've known some of our regulars for decades, and those kinds of customer relationships are few and far between, so we really cherish them. Making the move to Kingston felt bold. While in Clapham we know our customers, competitors and the community like the back of our hand, moving to Kingston was almost like starting over: a blank page for new stories to be written. But nevertheless, we did it. In late October 2021, we launched Eco's second venue in Kingston upon Thames. 
We're lucky enough to be located along the beautiful riverside in the centre of town. As an independent family-run business, it was daunting entering into a space like this: one that's lined with chain giants. But one thing we've come to learn in this short space of time is that Kingston is an exceptionally welcoming community. We've fallen in love with the great spirit everyone in this town carries with them. At our launch, we were only met with enthusiasm towards the delights of Eco and the kind of real care and interest in our story that you'd expect from a friend. 
As we look forward, our key motivation at Eco Kingston is this wonderful community. We aim to find ways to introduce ourselves to the town as not just an eatery producing delicious, affordable pizza, but also a hub for the people that define this incredible town – families with children, students, workers, charitable organisations; the list is endless. 
We plan to host brunches where we can get to know families in the area and learn how to accommodate their needs, and have already started pizza masterclasses for local children to get involved in after school. As an affordable eatery, we also aspire to connect with the student community here, and have some big plans in the works for student-based competitions and events later in 2022. 
So here we are, on the other side of the Kingston launch. It really wasn't that terrifying after all. We are incredibly grateful for how smoothly we were able to open, thanks to the community, but also the almost post-pandemic times we're now reaching. It was such a privilege to host an in-person launch event and be able to meet everyone face-to-face, which is something many businesses have not had the chance to experience over the last two years.
Now, moving further into 2022 with two venues under the Eco name, we are solely excited. 
Eco Pizza
Find them here
---
We love hearing from our members how things are going. If you would like to write a Member Spotlight, drop an email to joelle.fry@kingstonfirst.co.uk.